DT & Engineering Trip: Silverstone Interactive Museum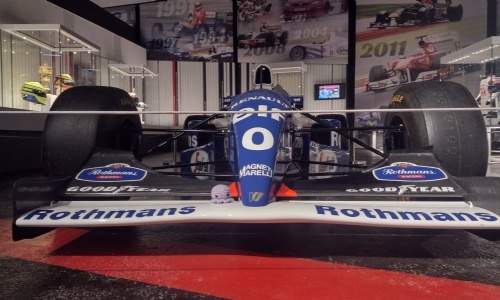 On Wednesday 10th May, Design Technology and Engineering students visited Silverstone.
The students spent the day visiting the exhibition space alongside the circuit itself, which incorporates the history of Silverstone as well as the history of motor sport. The various exhibits also allowed students to explore the wider aspects of racing, including medical support, the mechanics, safety and via the Tech Lab, the technology and engineering itself, as well as the opportunity to get close to genuine raced vehicles, clothing and other related items.
Students also had access to the Heritage Track Trail, where they got the chance to walk on a section of the original Silverstone Circuit. This provided them with a great view of some areas of the current circuit and they were lucky enough to see some race bikes taking part in a track day!
We also took part in a STEM Workshop in a dedicated Learning Studio overlooking the circuit. Students had the opportunity to get hands-on with genuine items of motor sport technology including a fuel tank made of Kevlar, race wear suits and a Carbon fibre rear spoiler wing. With the day sparking some keen interest in careers they also explored the many career paths and entry options into the sector.