FGM
» What To Do
» Bucks Safeguarding Team Info on FGM
» Mandatory Reporting
» Local Guidance
» Further Information
» Other Useful Documents
---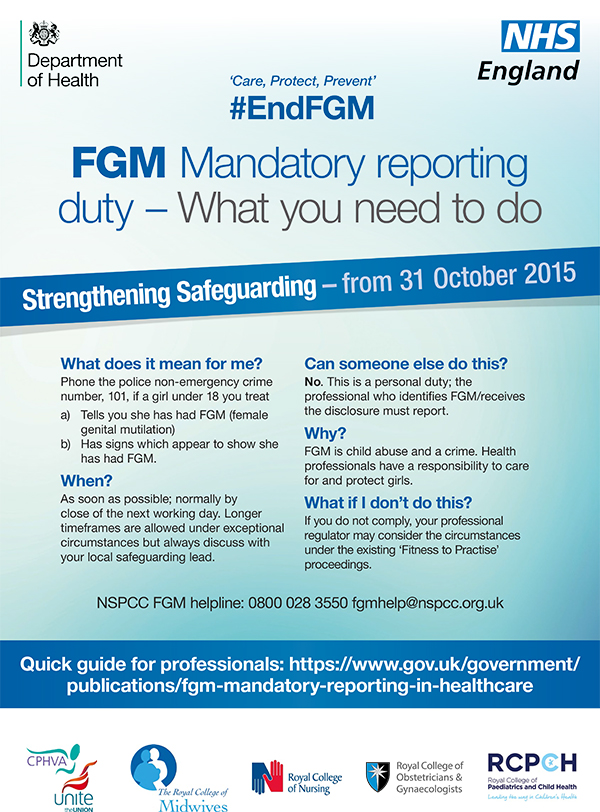 ---
What to Do
What to do if you think you, or someone you know, is at risk of FGM:
For more information about what FGM is, and how it affects young women and girls, the Daughters of Eve website is an excellent resource:
---
Bucks Safeguarding Children Board Information about FGM
The information below is produced by the Buckinghamshire Safeguarding Children Board
Female Genital Mutilation (FGM) is defined by the World Health Organisation as:
"all procedures that involve partial or total removal of the external female genitalia, or other injury to the female genital organs for non-medical reasons".
FGM is considered child abuse in the UK and is a grave violation of the human rights of girls and women. It has intolerable long-term physical and emotional consequence for the survivors and has been illegal in the UK for over 30 years. It is estimated that 137,000 girls and women in the UK are affected by this practice, but this is likely to be an underestimation.
---
Mandatory Reporting
On the 31st October 2015 a new duty was introduced that requires health and social care professionals and teachers to report 'known' cases of FGM in girls aged under 18 to the police. For example, if a doctor sees that a girl aged under 18 has had FGM they will need to make a report to the police. Similarly, if a girl tells her teacher that she has had FGM, the teacher will need to report this to the police. A referral should also be made to Children's Social Care.
---
Local guidance and procedure for safeguarding girls and women at risk
---
Further Information
---
Other Useful Documents: