GEOGRAPHY
» About Us
» The Geography Team
» Curriculum
» Geography Reading List
» Enrichment, Field-Trips and Extra Curricular Activities
---
About Us
We aim to develop enquiring Global Citizens who are able to utilise the skills and knowledge they have acquired in their Geography lessons in the world beyond school. Geography is at the forefront of global issues: Climate Change, Hazards, Migration, Superpower Countries, Development are all topics that are covered in the Geography syllabus, and are also daily discussed politically in governments, and socially in the Media and on Social Media.
It is not only the topic content that makes Geography the best subject on this earth: there are a broad range of skills that students need to utilise. These include numeracy, literacy and ICT based skills. The way in which the topics are assessed enables students to develop their Geographical knowledge and skills and to make four levels of progress whilst at the Aylesbury Vale Academy.
We are an experienced expanding department. Please enjoy reading through information on the team, and on topic content at varying key stages.
---
The Geography Team
Curriculum Leader: Mrs A Smyth
"Topical global issues such as refugees and migration, extreme weather, climate change and reducing poverty are why Geography is so important. Our subject also teaches about differences between places and cultures and reasons for this. Through lessons I hope to inspire students to want to find out about different regions of the world and, hopefully, go and see some of the landscapes and places we focus on. Whenever I get the chance I try to see a new part of the world, whether in the UK or in a different country; I hope to enthuse students by using real examples within lessons."
Assistant Principal/Teacher of Geography: Mrs K Briggs
"Geography is the most important subject on Earth and it covers such a wide variety of disciplines which should appeal to every student. It covers all areas of the curriculum and the skills used when learning the subject give a broad base of skills for life. The opportunities that students have outside of the classroom in order to further develop and stretch their minds is really important to me; Geography is all around and cannot be solely taught in a classroom environment. Students need to experience the bigger picture as well as be taught about its origins. I love to travel and I use my experiences to enhance learning."
Teacher of Geography: Mrs U Weedon
"I studied Geography at the University of Birmingham and completed my PGCE at the University of Oxford. I enjoyed my time throughout school and have always had a passion for learning. Geography allows our students to understand the wider world and how our planet is constantly changing. My philosophy is work hard, try your best and have fun! Outside of teaching I enjoy travelling, being outside and movies."
---
Curriculum
Key Stage 3
Within Key Stage 3 students will follow a course in line with the requirements of the National Curriculum. It will build upon and extend knowledge, understanding and skills introduced at primary school. This will be applied to further study at GCSE and A level.
---
Key Stage 4
At GCSE we follow the AQA 1-9 specification which covers human and physical geography topics in addition to issue analysis and fieldwork investigations. Our GCSE students not only gain a knowledge of the UK and the wider world, they also develop wide-ranging skills such as fieldwork and research, map, presentation, analysis, evaluative and communications skills.
Geography Learning Journey
(click on image to enlarge).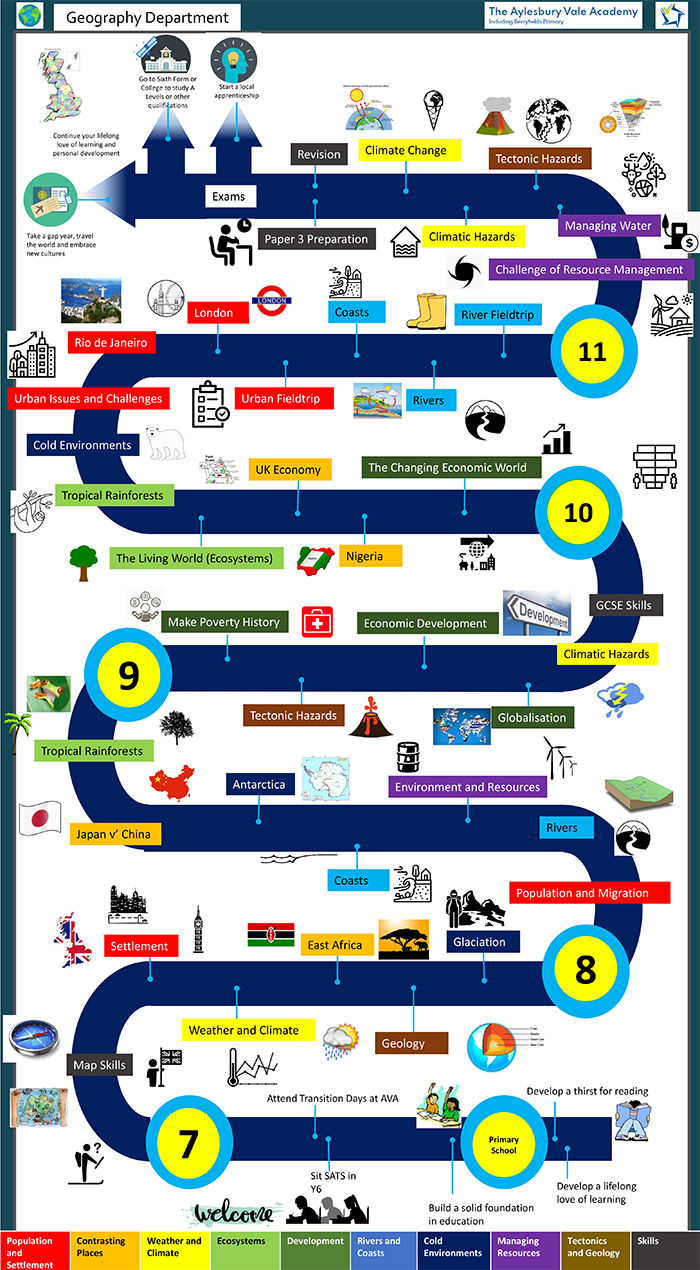 ---
Geography Reading List
Reading is so beneficial to students in our subject, both improving their literacy for exam questions as well as widening their understanding and views of the world. News websites, magazines and books all keep Geographers up-to-date and can spark interest in certain topics. The following recommendations suit our teaching in KS3 and KS4. Please encourage your child to speak to their Geography teacher if they would like any other suggestions.
KS3
The Boy at the Back of the Class by Onjali Q. Raúf
Survivors by David Long
Running Wild by Michael Morpurgo
KS4
No One Is Too Small to Make a Difference by Greta Thunberg
There Is No Planet B by Mike Berners-Lee
The Man Who Cycled The World by Mark Beaumont
KS5 (or KS4 preparing for KS5)
Factfulness by Hans Rosling
Prisoners of Geography by Tim Marshall
Canoeing In The Congo by Phil Harwood
---
ENRICHMENT, FIELD-TRIPS AND Extra Curricular ACTIVITIES
Studying outside the classroom is an important element in Geography providing students with the opportunity to be inspired about the world as well as consolidate their learning. We strive to provide a range of enrichment activities including field trips, investigations within the school grounds and outside speakers across both Key Stage 3 and Key Stage 4.
Our students benefitted from the following experiences in 2021-2022.
Enrichment in Key Stage 3
Gardening Club – a weekly club led by Mr Williamson for Year 7 and 8 students
Microclimate investigation within the school grounds
Flood Management investigation – within the local area of Berryfields
Outside Speaker from/visit to Greatmoor Energy from Waste Facility
Year 8 visit to Greatmoor Energy from Waste Facility
Eco-Committee gaining Green Flag status for the school
Kew Gardens visit
Enrichment in Key Stage 4
Woodland ecosystem field trip to Black Park (including GoApe high ropes course)
Climate Action Conference at Stowe School
Urban field trip to Oxford
River field trip to sites along the River Chess
Recent Field Trips
Black Park Woodland Field trip and GoApe