PERFORMING ARTS - MUSIC
» The Music Department Team
» Curriculum Intent
» Extra-Curricular Activities
» Technology
---
The Music Department Team
Curriculum Leader
Mr C Hallam - challam@theacademy.me
Teacher of Music
Mrs Z Stefanczyk
Mr J Turnham
---
CURRICULUM INTENT

COGNITION CURRICULUM

Reciprocation working together to become better learners- This is fundamental for the Music curriculum, and we offer continued opportunity for students to work together through whole class ensemble work as well as smaller group work through Instrumental collaboration. Other opportunities include:
Having distinct roles and responsibilities for a common goal. Leadership roles/directing and acting on instructions. Group work (small and large) discussion activities, collaboration opportunities.
Whole class performances.
Peer Assessment
Sharing ideas and composing together
Music ambassadors to lead on group work
Reflection This is an important aspect of our teaching and learning practice. Use of KS3 tracking to reflect on what we have learnt in the lesson and what we need to develop our skills and knowledge next lesson-Peer assessment checklists to reflect and target. Personal Learning Checklists- End of Topic reflection activities. Make links to new material that has come before- this gives students a feeling of progress and a way of seeing what they have learnt.
Watching videos back and assessing
Listening back to class performances
Reflecting on ours and others contribution to individual roles and group work
Mini plenaries- Reflect on learning so far.
Resilience we will always promote a sense of achievement for all learners and a can-do approach- Praise and confidence building is essential strategies to build musicianship skills. We adopt a nurturing environment where students feel comfortable to take risks and express themselves in a non-judgemental way and promote a sense of well-being and self-worth. We allow students to express themselves musically every lesson and we develop their confidence and ability to perform in front of others if they wish to and actively encourage this whether individually or as part of a group.
Confidence to perform in front of others
Progression in self-belief/Self Esteem
Student taking on extra responsibility and relishing challenges
Recall Recap of knowledge built into starters and plenaries. Recall is an important aspect of our delivery not just to but to build the bigger picture and links to prior learning but to inform the teaching and learning and targeted intervention checks.
Resourcefulness Within music we explore a variety of creative strategies to overcome challenges- we use some of the following strategies
Reflective-Clear differentiation/Extra support/Challenges linked to PowerPoint-SOW
Challenge wall to support progression
Literacy Maps
Displays
Sentence starters
Resources developed in home language- EAL
Teacher Modeling to motivate and overcome challenges
Student Leadership and ambassador opportunities
CORE CURRICULUM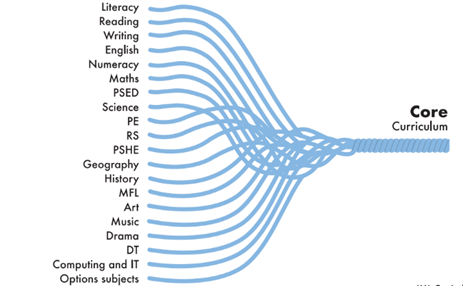 KS3 This curriculum has been designed to engage pupils at all levels with a broad and balanced outlook, progressively developing students' musical skill base, whilst incorporating the core fundamentals outlined in the National Curriculum. Our aim is to make the KS3 curriculum exciting and engaging with balance and opportunity between performing, composing listening, and application of Music and ICT. The Curriculum although always under development and scrutiny has been developed through unit and topic exploration and trials to find out what inspires students with balance, opportunity, and engagement. Priorities include vocal and Instrumental development and a balance between independent and collective rehearsal and music making. The KS3 Music curriculum is a progressive/ spiral skill-based curriculum approach. The core skills are developed in each unit and thread through the entire of KS3- ex Ensemble skills/Instrument and voice/performance/creativity/improvisation/appraising/music notation. Skills are revisited to enforce concepts and to secure skills and knowledge. The curriculum is also designed to make links with GCSE Music curriculum such as studying world music topics Calypso/Indian/Bhangra/Samba/Film Music also developing Cultural Capital. Developing musical experiences. Example- World Music unit Year 7- Topics are designed to allow progression and maximise on skills development and opportunity
Exposure to music from diverse cultures/times and Genres drives topics and curriculum content to a large degree
KS4 At KS4 we provide 2 learning pathways- GCSE and BTEC Music. The OCR GCSE Music course develops student's musical ability through the exploration of performance and composition as well as a varied and in-depth analysis of musical history, genres, and theory. We allow students to maximise on their performance potential with expert guidance both in the classroom and with Peripatetic support.
The BTEC Tech Award music pathway engages students who want to develop their musical creativity with a focus on music technology as a vehicle to do this. This pathway is open to students who may not have the instrumental skills and ambitions to study the GCSE course but who have a real interest in music and want to develop their skills and knowledge further in a more creative and technology-based way.
CULTURE CURRICULUM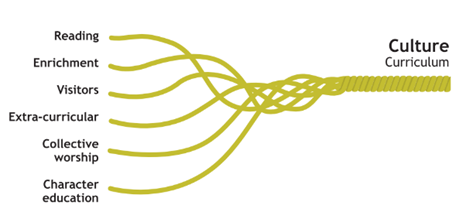 The Cultural Curriculum in music is integral to our progression, success, and harnesses and enthuses student's interests and passion for music. We have many opportunities in music to develop our student's cultural capital through our extracurricular provision and our regular workshops and trips as well as concerts and school productions. Giving our students the platform to express themselves is part of what we do. Examples of the cultural curriculum include:
Music Workshops- Rhythm workshops/Drumming Orchestral Workshops /Song writing workshops- Inviting in Industry professionals to deliver.
In house Music Workshops
Music trips
Weekly After school Clubs- Singing club/Ensemble club/Keyboard Club
Regular Concerts/Festivals and school productions.
Instrumental Teaching provision offering a diverse number of Instrumental lessons from visiting professionals.
The Culture Curriculum is also delivered through the study of a wide variety of musical styles and genres including their cultural influences. These include styles such as Samba, African, Indian, Reggae, Calypso, Greek, Palestinian and Israeli music.
Careers This is developed and incorporated into the music curriculum at different and appropriate stages when we can investigate certain aspects of the music industry in terms of careers and career opportunities.
---
Extra-Curricular Activities
Peripatetic Music Lessons
At the Aylesbury Vale Academy we have experienced peripatetic staff who are dedicated to give a high standard of music teaching. Students are able to learn a variety of different instruments including, keyboard/piano/Guitar (all types) drums/violin/singing/flute, clarinet, and saxophone.
Practise Sessions
Students are able to access the practise rooms at set times during the week whether during lunch and break times or after school.
There are lots of possibilities for students to develop their instrumental and vocal skills through Orchestra, Choir, and Rock group, which are on a weekly basis.
---
Technology
The music department with its three suites of Apple Macs allows students to develop their music technology and composition skills using Garageband Software. This is becoming very popular. We have a recording studio which students can access and where the GCSE performances are recorded. The recording studio has use of Logic Software as one of the Mac suites. We have 60 midi keyboards and 50 regular keyboards although they also have MIDI compatibility. The studio has high quality monitors and Audio Interfaces. There are also an array of different microphones within the department