STUDENT CAREERS ADVICE
» Careers Leaders
» Careers Provision
» Careers Across the Academy
» Useful Links
---
Careers Leader
Our Careers Leader is Mrs P Marina who can be contacted via email - pmarina@theacademy.me or telephone on 01296 428551.
---
Careers Provision 2022-2023
For a full copy of AVA Careers Provision as detailed below, click here.
Careers Programme
(Click on image below to expand)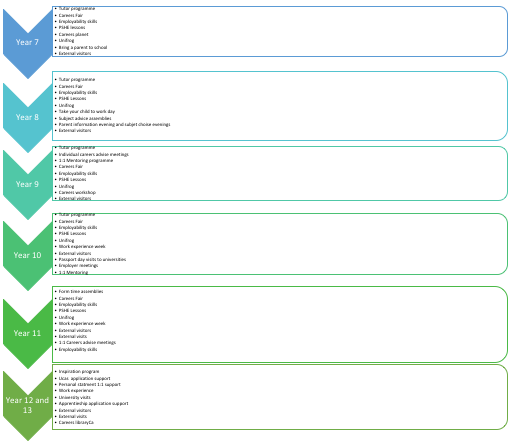 The Aylesbury Vale Academy is keen to ensure that students are equipped with the skills and knowledge to investigate, research and enter their chosen professions. The Aylesbury Vale Academy strives to provide all learners with careers education, information, advice and guidance in all years.
We are constantly reviewing and improving our careers education and guidance in line with the Gatsby benchmarks. The next review of the strategy will be published July 2023.
---
Careers across the Academy
Careers notice board
Careers on the Aylesbury Vale Academy website
Annual Careers Fair
Unifrog
Careers talks
Ad hoc workshops offered by employers e.g HS2
Opportunities emailed to parents and learners
Teams updates with opportunities, open day's and LBI
Destinations data
Each Curriculum area is challenged to invite external guests into link their subject area to the curriculum
---
Adviza
If your child would like a careers appointment, then we can arrange this with Adviza who visit the school weekly. Student are encouraged to ask Mrs Leach (Head of Year 11) to book their appointment. For further information on Adviza click here.
Also, Educational establishments are now starting to promote their open evenings/days. Make sure you look at the college or school your child wishes to attend and go and look around to make sure it is right for them.
---
Useful Links
FutureLearn (Free online learning courses from leading universities).
Bucks Skills Hub (The Bucks Skills Hub aims to promote and optimise links between employers and educators).
Apprenticeships (Find an apprenticeship in the UK).
Higher and Degree Apprenticeships (Provides information for young people on the opportunities, progression and benefits of doing a higher or degree apprenticeship).
Milkround School Leavers (Opportunities and advice for school leavers).
National Careers Service (Information, advice and guidance on learning, training and work).
Princes Trust (Careers Advice)
Getmyfirstjob (Help find an apprenticeship)
Unifrog (Find and successfully apply for your best next step after school).
BestCourse4Me (Links between courses and jobs)
More useful websites can be found here at Adviza.