STUDENT PARLIAMENT
SECONDARY PHASE STUDENT PARLIAMENT
The Aylesbury Vale Academy Student Parliament is made up of students from across the Academy and provides a forum where issues can be discussed and acted on.
The Secondary Phase School Parliament is made up of representatives from each year group. They are elected by their peers and attend meetings that are chaired by Ms Lutchi and the Head Girl and Head Boy every week, on Friday morning.
---
Latest news
The AVA Turtle
The Student Parliament team is raising an awareness about ocean pollution/recycling plastic bottles.
The team have been delivering whole school assemblies and have been working on creating an AVA symbol : The AVA Turtle. Please see pictures below.
We are all encouraging the AVA students and AVA staff to recycle as many plastic bottles as they can. We have also created two plastic bottles recycling boxes, one in the Atrium and one in the Atrium.
Well done Student Parliament!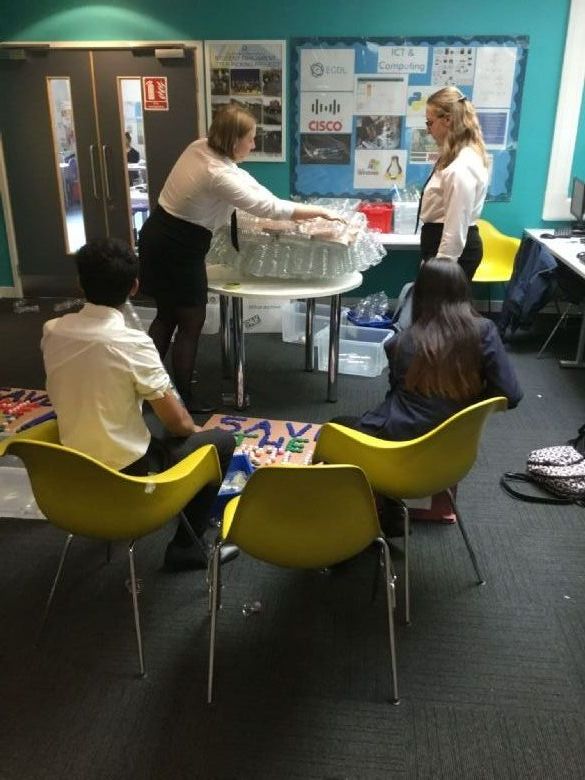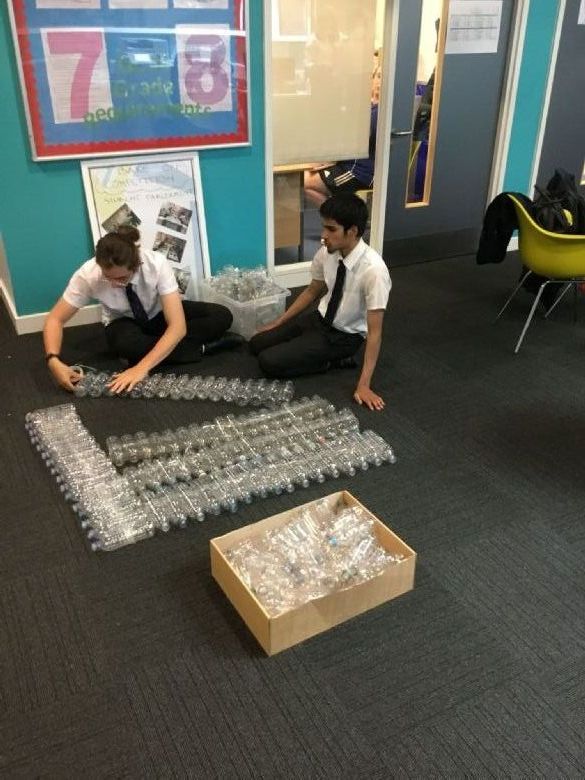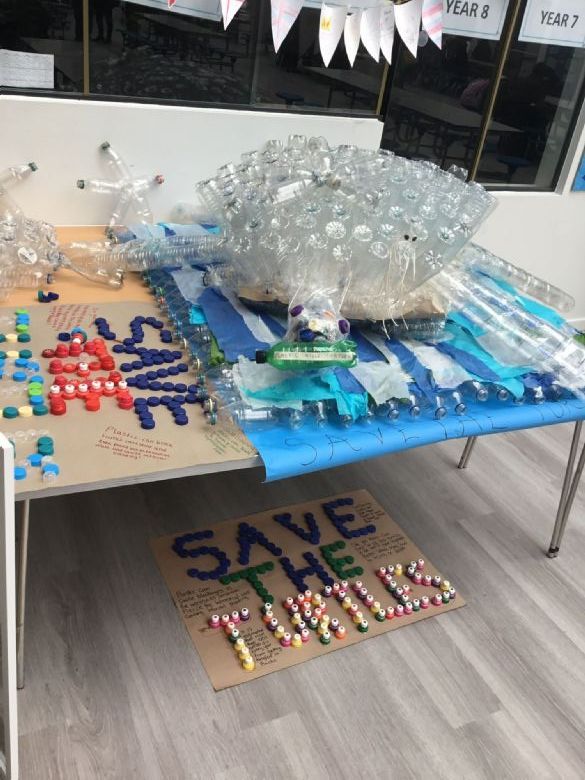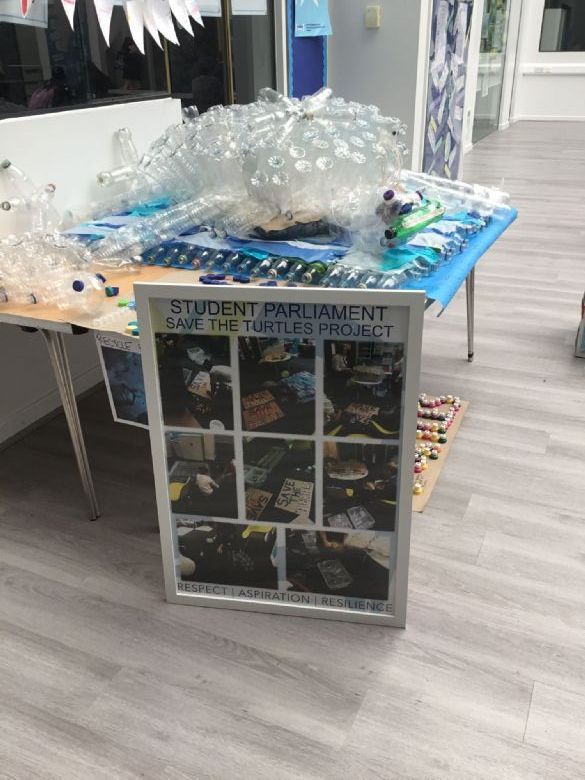 ---
STUDENT PARLIAMENT UPDATES
Recycling
We have noticed that a lot of the rubbish in the atrium could actually be recycled, so we are launching some recycling schemes
There are already bins for different recyclable waste and it would be brilliant if we all started to use them a bit better than we currently do.
We have managed to get the school leadership to agree to buy more recycling bins for paper waste from the classrooms on the top floor , middle floor and ground floor.
In each classroom we have placed a "AVA Paper Recycling Box" to recycle as much paper as we can.
---
Litter Pickers Ambassadors
Many of us, along with Year 7/8/9 students, have been picking up litter at the end of break and lunch as well as in the atrium before form starts every morning.
Often the amount of litter has been pretty bad but it has definitely improved in the last few weeks.
We would really appreciate it if you used the bins, especially for food waste as this is often hard to grab with the litter pickers we have bought.
---
Catering at AVA
Council members have recently been involved in the bidding process for the catering contract at AVA.
Every few years the Academy can decide whether to continue with the current company or choose a new one.
We reviewed the menus for food that will be on offer and tasted some of the food produced by all the companies bidding. We then gave our feedback to the companies and the school leadership.
We will be able to share the outcome of this process with you soon once a final contract is agreed.
---
Plastic Bottles Recycling
Parliament members and Y11 Ambassadors are working on this project with Ms Lutchi.
The students have created huge cartoon boxes where the students could recycle plastic bottles. They have informed all AVA students through an assembly delivered to all year groups.
---
Eco Schools Green Flag
Council members and Y11 Geography Ambassadors are working on this project with Ms Smyth.
The Eco group are meeting weekly and discuss ideas. Students are certainly developing their skills in managing people//deadlines.
Y11 Geography Ambassadors are looking at planting trees at AVA and they are hosting charities together with Students parliament to raise money.
---
Aylesbury Foodbank
Student Parliament from both the Primary and Secondary phases (Years 4 – 11) worked with Aylesbury Food Bank to deliver some fantastic donations from parents, carers, and staff.
The students were welcomed by a wonderful volunteer who took time to explain how the food bank runs and how important donations are to our community.
The School Parliament members would like to say a HUGE thank you to everyone who was able to donate! We are looking forward to running this again next year, to continue to help the Aylesbury community.
---
Charities
Student Parliament have been hosting various events to raise money for different charities such as: "Tea Party- raising money for Great Ormond Street Hospital for children", "Baking Competitions to raise money for Anthony Nolan charity", etc…
---
Academy Parliament Members
Head Boy: Jake Ward
Head Girl: Fiza Nawaz
Deputy Head Boy: Teddy Allison
Deputy Head Girl: Kendra Adowaa-Menkah
The Other Parliament Members are:
Amir C Y7, Elisha M Y7, Dharm B Y7; Alexandra M Y8, Olivia U Y8, Gabrielle O Y8, Zach P Y8, Rufus M Y8, Jennifer B Y8, Kairon C Y8, Temi O Y8 , Rupert W Y8, Paige D Y8; Haider A Y9, Ajitesh N Y9, Alicia D Y9, Chloe J Y9, Amelia D Y9, Summer W Y9, Lilly L Y9, Emily M Y9, Kira H Y9 Joshua H Y9; Robert E Y10, Additya A Y10, Annabel H Y10, Zoe K Y10, Niran R Y10, Lavinia N Y10, Haleena P Y10; Xander M Y11, Alexia C Y11, Aishwarya A Y11, Kayleigh E Y11, Lucy C Y11, Amna M Y11, Foisal M Y11, Corey C Y11, Khadijah K Y11, Zoha O Y11, Vedika S Y11, Fiza N Y11; Henry M Y12/13, Nakiso S Y12/13, Khadijah A Y12/13.