YEAR 10 INFORMATION
Year 10 Information 2021/2022
» Contact Details
» Year 10 News
» Achievement Director Year 10
» Year 10 Team
» Year 10 Form Tutors
---
Contact Details
Email: year10enquiries@theacademy.me
---
Year 10 News
News to follow shortly!
---
Achievement Director Year 10
Welcome to Year 10. Our students welcome the exciting new opportunity of extending their day by choosing an enrichment club, finishing at 4pm. This opportunity encourages our students to learn new or develop existing skills which can support them in life beyond school. This opportunity also allows our students to have an on-going school routine as they enter extended learning in year 11.
As a year group we will continue to work closely and effectively to deliver high standards and to provide every student the opportunities they deserve.
Miss L Pinker
Email: lpinker@theacademy.me
---
Year 10 Team
SLT Link
Mrs C Fleetwood - cfleetwood@theacademy.me
Year 10 Pastoral Support
Mrs D Collins: dcollins@theacademy.me
---
Year 10 Form Tutors
10 Faraday 1 - Mrs L Finnie
10 Faraday 2 - Mrs T Oldfield
10 Faraday 3 - Mrs C David
10 Franklin 1 - Miss A Felipe
10 Franklin 2 - Mr K Laundry
10 Franklin 3 - Mr F Nasolo
10 Nobel 1 - Miss O Burgess
10 Nobel 2 - Mrs E Edwards
10 Nobel 3 - Mrs A Smyth/Miss L Green
---
Year 10 Subject Overview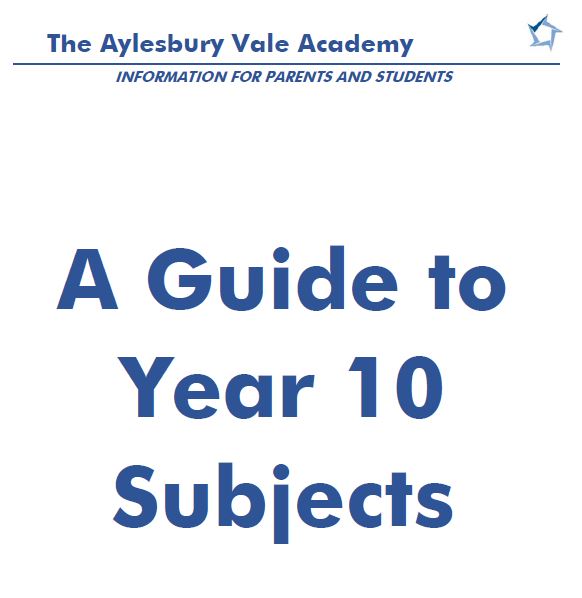 This booklet has been collated to give you an overview of every subject examined at Aylesbury Vale Academy. It contains important information on a range of topics such as, how the qualification is assessed, how long the exams are and which exam boards we use etc. The booklet also gives very precise guidance on what to study and how to study giving specific tips on revision strategies, websites that can be used and other resources available to students.
Click here or on the 'Guide' image above.