Tech 4 Learners Laptop Hire Purchase Scheme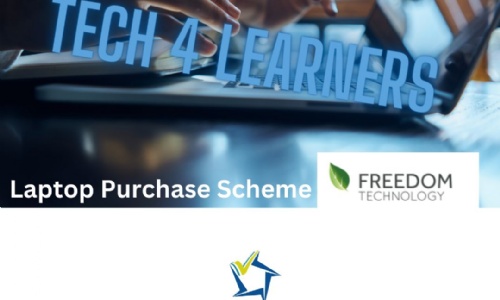 Aylesbury Vale Academy is very pleased to be partnering with Freedom Technology in order to offer parents and carers the opportunity to purchase a laptop to support their child's home learning.
At AVA all home learning is set and monitored electronically using MS Teams, meaning home access to technology is vital for success in the Secondary phase.
Laptops can be bought upfront with one payment, or the cost can be split into monthly payments. Laptop purchase comes with a full service/repair package included and if the problem cannot be fixed straightaway, a temporary laptop can be loaned out whilst yours is repaired.
Please see leaflets below for more information on the products available, the different payment plans, and login credentials.
If your child is on the SEN register or eligible for support through Pupil Premium funding please use the designated login details, as the Academy is committed to subsidising costs for these students.
If you are unsure of your child's status, please contact AVA and will advise. Children eligible for Free School Meals or children in care will be supported with access to technology via different means and are also encouraged to speak to staff at the Academy if they have queries about this.
The ordering portal will be open until Thursday 10 August and all further details about the scheme can be found by accessing the portal using the credentials in the leaflet below.