AVA Awarded Eco Schools Green Flag with Distinction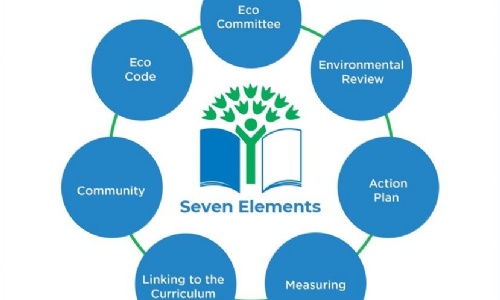 Congratulations to the Eco-Committee team, headed by Mrs Smyth, for achieving an Eco-Schools Green Flag Award, with Distinction!
The Eco-Schools Green Flag is an international accreditation (currently operating in 70 countries).
The Eco-Schools programme, a simple and flexible seven-step framework developed to empower young people to lead environmental action and education in their school, local community and beyond.
The seven steps include:
Eco-Committee, a group of students and adults responsible for all things Eco-Schools.
Environmental Review, a review on learning environments.
Action Plan, a plan for environmental actions.
Curriculum Links, including environmental issues in school.
Informing and Involving, including all pupils, staff members and your local community in Eco-Schools work.
Monitoring and Evaluation, measuring the impact of the Action Plan.
Eco-Code, a rallying call that everyone can get behind!
The Aylesbury Vale Academy Eco-Committee were praised for their action-focussed and practical approach to meetings and their excellent focus on engaging young people in environmental action.
Eco Schools were amazed at the evidence based details provided by the team in the application, which demonstrated the creative and innovative ways educators at AVA tackled huge global issues in a child-friendly way - 'showing a true dedication to environmental education'.
Monitoring and evaluation work undertaken by the Eco-team, were also highlighted and deemed one of the strongest parts of the application, with the many successes ranging from planting trees to litter-picks!
The Eco-Schools team were delighted to award The Aylesbury Vale Academy an Eco-Schools Green Flag with Distinction.
The Eco Committee and the entire school should feel very proud.