Buckinghamshire Council Summer Holiday Family and Young People Events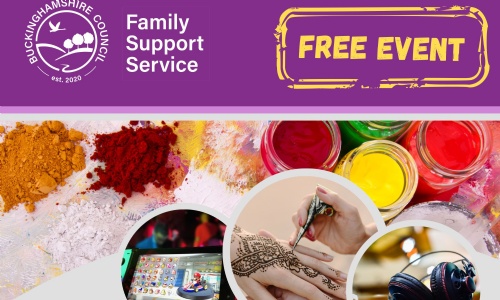 Bucks Council have launched a series of free summer holiday events providing activities for families and young people.
Family Fun mornings will take place at the following times:
Wednesday 26 July – Elmhurst Family Centre
Thursday 3 August – Buckingham Family Centre
Tuesday 8 August – Southcourt Family Centre
Friday 18 August – Wing Family Centre
Wednesday 23 August – Berryfields Family Centre
Thursday 31 August – Steeple Claydon Family Centre
These family mornings will be followed by Youthspace events running from 1pm to 4pm at the same venues on the same dates. Aimed at 11 to 19-year-olds, they include activities such as Graffiti Workshops, Switch console tournaments, Henna and festival face-painting, sports, a DJ Workshop and a chance to Meet the Animals.
Wellbeing Workshops
Bucks Council are also running a pair of online Wellbeing Workshops over the next month to help parents manage their childrens' wellbeing. Continuing their ongoing series, the next webinar is titled Happy, healthy and Safe Online Tips to Help your Child and take place from 9.30am to 11.30am on Tuesday 27 June. Two weeks later on Tuesday 11 July, you can Help your Child Build Confidence and Resilience, again from 9.30am to 11.30am. See the poster attached for more details.